Hughes O'Brien Chartered Engineers & Assigned Certifiers Frank 086 8638648 ...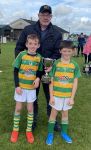 04 October 2021

Local Lotto Draw for 27 thSeptember 2021 Winning numbers : 13. 26, 36. No Winner Winners of Draw for 5 x € 30. Anne Hickey ( Anne Hickey ), Pat Flynn (Pauline Flynn), Deirdre O Neill (Edward Moran), Vinny O Keeffe (Malachy Hogan), Jim Dog (Pat Comerford) Jackpot next Week € 2,650 (October 4th) Draw takes place St. Leonards Hall, Dunnamaggin every Monday @ 9.00 pm, all welcome.
Dunnamaggin DEvelopment Group: nominations are now open for our third Community Spirit Award which will be presented this November. To nominate someone for this award please private mesage our facebook page Dunnamaggin Community News. Nominate the person and outline why you think they should receive the award. Alternatively write it down and post it in the postboxes that will be in the village in the next week. The next market is a Halloween themed one and will be held on Sunday October 31st in Madge's Garden. More details to follow.
Laura Lynn Fundraiser Orlaith Byrne from Kilmoganny who attends St. Eoghan's National School carried out a fund raising event in aid of Laura Lynn. She allowed her hair to grow over a very long period of time until it was as long as Repunzel's. She then cut her beautiful hair in aid of Laura Lynn. Orlaith's cut hair will be used as a wig. To-date Orlaith has raised over €800 in aid of Laura Lynn. If you wish to donate you can at www.idonate.ie/orlaithbyrne

Mobile Library-will visit Kilmoganny at 3.30pm and Kells at 4.10pm next on November 3rd. Membership is free, including online books, magazines and learning courses. Enquiries to Library HQ tel 056 7794160
Calling all Community and Not for Profit Groups: All groups who have a volunteer focus big or small are invited to nominate their group for our Inaugral Community and Voluntary Awards 2021 to be held in The Ormonde Hotel on 2nd December . These awards will be an opportunity to celebrate the vibrancy and the commitment of our community and voluntary groups across Co Kilkenny and recognise the significant role volunteers play in enhancing the quality of life in their communities. (Particularly in light of the past 18 months) Group Nomination categories include: Arts, Culture & Heritage -Health & Community Wellbeing - Environment and Sustainability - Social Inclusion -Social Enterprise Community - Covid 19 Group Supports
Along with these categories we have one special individual award Covid 19 Volunteer Hero Award : This award is to celebrate an individual volunteer who has made an outstanding contribution to their community throughout the Covid19 pandemic. The winner of each category will receive a cash prize sponsored by local Kilkenny businesses along with a specially crafted trophy by a celebrated local craftsperson. The closing date for nominations is Wednesday 20th October. See www.volunteerkilkenny.ie for nomination forms and more information. Again thank you all for your continued support and I would encourage all local community groups to nominate themselves as soon as possible and to put as much information they can into the forms. Winners will be selected by an adjudication panel from people outside of Kilkenny .
Dunnamaggin GAA: Minor B County Final The Dunnamaggin Minor Hurlers contested the Roinn B County Final in a bright and breezy Nowlan Park on Saturday afternoon last against neighbours Danesfort. Dunnamaggin went into the game as reigning champions and were hoping to achieve their third Roinn B title in four years. Danesfort were hoping to win their first Roinn B title. It was Danesfort who dominated the early exchanges out scoring Dunnamaggin 4 point to 1, the point coming from Captain Ruadhiri Holden from play. Dunnamaggin settled and two further points from Ruadhiri from the placed ball and points from Cathal Buckley and Noah Gilmore brought the Dunnamaggin lads right back into this game and the side were level at 5 points each at the first water break. Dunnamaggin dominated the second quarter and although Joe Fitzpatrick was carrying an injury into the game from the semifinal himself and Cathal Buckley were causing the Danesfort backs problems. The domination however only added two point to the scoreboard from Ruadhiri one play and one placed ball as the Dunnamaggin wides were starting to creep up. There was only one point in it at the turn around Dunnamaggin 0:7 Danesfort 0:6.
Danesfort made some positional changes at half time and they paid immediate return when they scored 3 quick point to put them into a two-point lead. The Dunnamaggin men were not about to lie down. Ruadhiri pointed another free before Dunnamaggin scored the only goal of the game. Aaron Moore gathered a high ball inside his own half and headed route one down the park on a solo run, he managed to draw the Danesfort defenders and deliver in the perfect ball to Cathal Buckley who made no mistake. Dunnamaggin won the resultant puck out and Tom Lodge converted. Danesfort were applying serious pressure to the Dunnamaggin backs and but for some heroic defending and super goal keeping from Thomas Deegan they could have crossed the whitewash. Danesfort did respond with a free to put the score Dunnamaggin 1:09 Danesfort 0:10 at the water break. If Dunnamaggin had owned the second quarter Danesfort owned the last. They immediately leveled the game with two points but Ruadhiri was accurate from the placed ball to keep his team in front. It was Danesfort however finished the game the strongest and put over five unanswered points as we headed for the final whistle and give them their first Roinn B title. Full time Dunnamaggin 1:10 Danesfort 0:17. A super effort from the Dunnamaggin management and panel to reach their second final in two years and they fought heroically throughout.
Panel: - Thomas Deegan, Sean Lawton, Eoin Shiel, Mark Mac Eneaney, Aaron Moore, Joe Fitzpatrick, Killian Tallon, Mikey Thomas, Cathal Walsh, Tom Lodge, Ruadhiri Holden, Ross O'Neill, Cathal Buckley, Craig Drennan, Noah Gilmore, Tim Doherty, Nathan Stanton Treacy, Gavin McMahon, Jamie Tallon, Ciaran Hickey, Pierce Costello, John Hayes, Noah Cahill, David Moore, Sean Rossiter, Liam Davis, Conor Alyward, Sam O'Shea, Jake Butler, Shay Delaney, Conor Lawton.
Co Final Sponsorship A huge thank you to John Shiel of Abbey Interiors who kindly sponsored tops for the Minor Hurling Management and Panel ahead of their Co. Final. Picture shows Alan Buckley ( Juv. Chairman) being presented with the tops from John Shiel with Players Ruadhiri Holden and Joe Fitzpatrick.
Thomas O'Shea BlitzWell done & thanks to everyone involved in the Thomas O'Shea blitz on Saturday morning in Dunnamaggin. It was a great morning for hurling & enjoyed by all the teams involved. Eight teams participated in the blitz and they were Dunnamaggin, Carrickshock, Bennettsbridge, Kilmacow,Tullogher, Mullinavat, Blacks & Whites, Carrickshock & Graiguenamanagh. Well done to our own u9s who played great hurling in all their 4 games Thanks to Nicky O'Shea for presenting the cup to Bennettsbridge who were the worthy winners of the tournament.(Photo Attached)
Kilkenny Pilot Poject - Walking the Talk The Men Development Network in partnership with Healthy Ireland and Get Ireland Walking are pleased to announce a new pilot programme for men in Kilkenny called Walking the Talk. Walking the Talk is a free programme where participants take part in guided walks during which men can both exercise and explore questions relevant to living more enjoyable, connected lives. The programme commences on Wednesday, November 3rd and take place each Wednesday morning for 6 weeks.To register, you can sign up on the Men's Development Network website through the following link: https://mensnetwork.ie/walking/ Alternatively, you can call directly on 083-0125488 to register. Places are filling really quickly.

Launch of Kilkenny Catwalk Trail The Kilkenny Catwalk 2021 is a fantastic outdoor arts trail of 21 wonderful Kilkenny Cat sculptures which have been decorated by some of our most talented artists, mainly local, for public display in and around Kilkenny City from next Sunday the 10th of October. Pangur Ban from Cartoon Saloon's 'The Secret of Kells' forms the blueprint of these Sit sculptures that will lead you on an artistic trail across Kilkenny city. Just download the app and go!
This project is a partnership between Kilkenny Civic Trust and Kilkenny County Council and was created by The Art of Tourism who specialise in the delivery of public art trails. At the conclusion of the project, all artwork will be auctioned to raise funds for the refurbishment of the St Marys Almshouse in Kilkenny.
The Storytelling Series - Free Communications Training for Community and Voluntary Groups The Storytelling Series is an exciting FREE training series which will enable us all to feel confident about communicating our value! Public awareness is vital to maximising the work we do, and this series is all about amplifying our impact.
Whether you're a large charity or a voluntary group with limited time and no budget, this training is open to you!
Easy Graphic Design with Canva with Ronny Hermosa (Canva, Fair Trade Connection) | Weds, 13 October, 10.30am - 12noon
How to Be a Spokesperson for your Organisation with Eleanor Kelly (UCD Innovation Academy, Open Society Foundations) | Weds, 20 October, 11am – 12.30pm.
All workshops are delivered online and are free of charge. Any queries, please email Claire McGowran: claire@wheel.ie.