Hughes O'Brien Chartered Engineers & Assigned Certifiers Frank 086 8638648 ...
Weekly News 23rd May 2022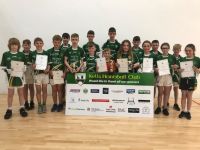 23 May 2022

Kells Handball Club ran a tournament in memory of the late Brian McCormack who was a member of Kells Handball Club. The juvenile doubles tournament consisted of 8 pairs played in a round robin timed game format. There were lots of excellent handball skill on display with the eventual winners Darragh McCormack and Jake O'Neill overcoming Shauna Hayes and Ava Walsh in the Final. Thank you to all the participants and their families for supporting the tournament and thanks to the McCormack Family for allowing us to hold the tournament in Brian's honour. Light refreshments were provided during the evening, and everyone had time to have a chat. All participants received a medal and participation certificate, and the winners and runners up received a Brian McCormack Memorial Cup.
A Car Wash to fundraise for the Féile will take place this Saturday May 28th 10am to 3pm. €7 a car come along and support. We are also looking for donations of clothes for our second fundraiser. Clothes can be left at the car wash on Saturday.
Local Lotto Results for May 16th 2022 Winning Numbers : 1, 5 , 31. No Winner. Winners of Draw for 5 x € 30. Tom McCormack ( Townsends ),Cindy Bryce ( Cis Ryan ),Dublin John ( Malachy Hogan ),Mockel B ( Petes ),Paschal Grace ( Ellen Delehunty ) Jackpot next week May 25th: € 2,200 Venue Dunphy's Bar Kilmoganny at 9pm All Welcome
Dunnamaggin Village - May Market - Sunday May 29th 12 noon to 4pm: What a perfect month to have our Flower Market and to celebrate our new flower embankment in Dunnamaggin . Join us for food , stalls and lots of activities We are very excited to have Betty Holden join us for a flower arranging demo We will also be holding a raffle for Bettys work for you to take home. We can't thank enough all the hard work and planning that has gone into the Embankment and we couldn't have done it without the continued support of our community . The Pop Up Café will be open for tea coffee and cakes and Eamon's BBQ will supply Beef Burgers, Chicken Burgers and Sausages in a Roll. Proceeds from the Café and BBQ go towards Dunnamaggin Development Groups ongoing work in the village. Lots of craft and food stalls and fun for the children. Come along and meet neighbours and friends in the beautiful Madge's Garden.
Dunnamaggin Ladies Football Club: LITTER PICKS FOR FÉILE KICKS! Our U15s are through to Regional Féile in two weeks time!! They will be doing LITTER PICKS in their communities in the coming week and are asking you to DONATE to their Fund4Féile! Any small contribution is very welcome and will ensure they have the best Féile experience possible. Thank you for your support to the teenage girls playing a team sport in your community. DONATE HERE TO THEIR FUND4FÉILE https://www.idonate.ie/fun.../11437193_fund4f--ile-2022.html
Kilmoganny Bridge Club The bridge results for 18/05/2022: 1st Teresa Walsh & Margaret Duggan. 2nd Josie O'Gorman & Tina Ronan. Bridge is every Wednesday night at 7.30pm in St. Eoghans Centre, Kilmoganny. All welcome.

Droichead Family Resource Centre Would you like to learn how to drive ? Droichead Family Resource Centre are now enrolling for Employment Skills QQI Level 4 commencing in September 2022. Get Driver Theory, Driving Lessons and Test preparation while training in Employment Skills including Safepass, HACCP and First Aid. Training allowance paid subject to DSP entitlements. For more information contact Droichead Family Resource Centre on (056) 7755660.Funky Fun Summer Camp are now taking bookings for their Multi- Activity Camp in Droichead on July 11th- 15th and July 18th-22nd from 9.30am-2pm . Contact Lorraine on (087) 3413970 to book your place. Pre booking is essential and book early to avoid disappointment.Droichead Family Resource Centre are running a Heartsaver AED Course on the 10th of June from 9.30am-12.30pm. Participants will learn how to use an Automated External Defibrillator and CPR. The Heartsaver AED Course costs €10 per person and each participant will receive an Irish Heart Foundation Heartsaver AED certificate. To book a place or for more information please contact Carmel on (083) 2098069 or email familysupport@droicheadfrc.ie.Want to know what is happening at Droichead Family Resource Centre? Text "what's on "to (085) 8564950 or (083) 2098069 to be added to our What's on at Droichead FRC WhatsApp Group. You can also follow Droichead FRC on Facebook or Instagram or give us a call on (056) 7755660 to keep up to date with all the services, supports and community groups available at Droichead.