Hughes O'Brien Chartered Engineers & Assigned Certifiers Frank 086 8638648 ...
Weekly News 19th Sept 2022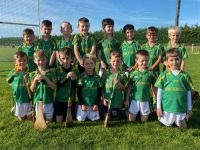 19 September 2022

Local Lotto Results for September 12th 2022 Winning numbers: 11 , 12 , 18 .
No winner - Winners of the Draw for 5 x € 30. Liam O Halloran ( Jimmy McCormack ), Zoe Kenneally ( Jackie Kenneally ), Tom Hickey ( Anne Hickey ), Mary Cody ( Aidan farrell 0,Joan Phelan ( Joan Phelan )
Jackpot next week September 19th 2022 €2,350. Venue: Delaney's Bar Kells at 9pm. All Welcome
Dunnamaggin GAA - Well done to all the u7s who finished up hurling for the year by completing their hurlathon today scoring some fantastic 45s , 65s & sidelines. They have set the bar very high for the rest of the groups to compete . They all had a great year of hurling with them all improving so much during the season
What's Happening in DUNNAMAGGIN
Yoga classes starting Monday 19th September at 10.30am in the Old School Dunnamaggin. Contact Sharon 086 8159441 to book a place. Spaces are limited.
The fourth Community Spirit Award will be awarded in November. This year, as last, we have a nomination process in place for people to nominate someone they feel should be acknowledged for their voluntary work and contribution to the parish of Dunnamaggin which encompasses the three villages of Kells, Dunnamaggin and KIlmoganny. Nominations can be sent via private message to our facebook page (Dunnamaggin Community News) saying why your nominee should receive the award. Nomination forms will also be available at the Harvest Market on Sunday September 25th and in local shops soon.
A new Whats App Group has been set up Parish News and Events to inform the whole community of forthcoming events across the three villages of Kells, KIlmoganny and Dunnamaggin. If you wish to be added please text 087 9665020 or 087 7565376 to be added to the group. It is an information only group so admins are the only ones that can post but there are admins from the three villages so if you have some event to highlight or news to impart you contact one of the admins and they will post for you.
The Harvest Market will take place on Sunday September 25th - Apple Pressing will be available so bring along your apples to be made into juice, our second Scarecrow Competition will take place - build a scarecrow and display in Madges Garden from 11am with prizes for the best - get your thinking caps on and start planning what kind of scarecrow you will make. We are looking forward to seeing all the creations. Get your Bake On with the Apple Pie competition for ALL the family young and old - leave your creation in the Pop Up Café from 12noon judging at 3pm - lots of fun games for the children. The Parents Association of St Leonards National School are teaming up with the Dunnamaggin Development Group and are using the Harvest Market as their first fundraiser of the new school year. They are organising the BBQ and the childrens games with all money raised going towards the school. You can pre buy what you want at the BBQ all leaflets will be going home in the school bags prior to the 25th September. Many Thanks for all the support.. looking forward to seeing you all on the day.
Dunnamaggin Development Group are looking for more volunteers to join the DDG . We hold two meetings a month to organise our markets . We have our markets at Easter - June - August - September Harvest Market - October Halloween and Christmas and you don't have to be involved in every one . We work as a team but we all understand that family and work comes first . If you are interested in lending a hand a couple of hours a month please let Cyndi know .It's also a lovely way to make friends and keep up to date with everything going on in the community and also helping to make our community a better place .
NO CONTRACT ! NO COMMITMENT ! JUST FUN ! Contact Cyndi on 0899473002
Some new volunteer roles at The Volunteer Centre in Kilkenny.
Barnstorm Youth Theatre - would love to hear from anyone interested in supporting their Youth Theatre Programme. Full supervision and support is given. It is a great opportunity to gain some experience with young people and the theatre.
Lets Team Up to Clean Up - Kilkenny Volunteer Centre are supporting this County Council Initiative on Sunday 9th of October. Any groups or individuals who would like to get involved can get in touch with us here to Keep Kilkenny looking its best !
A Dogs Life are looking for Volunteer Dog Foster Carers who are in a position to take a dog into their home to support the agency in the rehoming process.
L'Arche Community in Kilkenny are looking for a number of volunteers to help support the organisation with a Culinary Life Project, Gardening Support and General Volunteer for their Day Services. It is a great opportunity for anyone who has a passion for not just food and gardening but also arts and crafts and supporting adults with an intellectual disability .
Community Radio would love to hear from anyone who is interested in joining their board. Particularly anyone who might have a background in governance, general administration etc.
If you are interested in finding out more please get in touch . Email : info@volunteerkilkenny.ie or Call 0892584946 .
Droichead Family Resource Centre Callan - Knit/ Crochet and Natter, every Friday in Droichead Family Resource Centre from 10-11.30am starting on the 16 th September. Open to all beginners/ improvers/advanced, a tutor will be on hand to show new skills and all materials are provided. €2 per class to cover the cost of teas and coffees. To book your place contact Carmel on (083) 2098069 or familysupport@droicheadfrc.ie. Free Conversational English Classes return to Droichead FRC on Wednesday 14 th
September 6.30-8.30pm & Thursday 15 th September 9.30-11.30am. For more information contact Carmel on (083) 2098069 or familysupport@droicheadfrc.ie.

Help Kilkenny County Council shape a plan for your future !! Kilkenny County Council and the Kilkenny Local Community Development Committee (LCDC) want you to tell them about the opportunities, and challenges you face, across the county that affect your lives. To inform the next Local Economic and Community Plan (LECP) for the county the Local Authority is seeking feedback on proposed goals and objectives under 10 key areas;
Climate & Sustainability, Supporting Businesses, Culture, Heritage & Tourism, Rural Economy, Education & Skills, Attracting Graduates, Health Inequalities, Community Development, Social Investment and Housing.
As part of the first step to inform the new LECP plan Kilkenny County Council have prepared a draft Socio-Economic Statement and draft high level goals https://www.yourkilkennylecp.ie/ As part of the community consultation, Kilkenny County Council would like to hear your views on the 10 draft high level goals and the sustainable community and economic objectives set out within it, alongside your desired outcomes and vision for Kilkenny.
Take the citizen survey Click on the link https://www.yourkilkennylecp.ie/ to be redirected to the LECP survey page. This survey will take approximately 10-15 minutes to complete and will close on Friday 23rd September 2022.
The Draft Socio Economic Statement and Draft High Level Goals are available for public viewing at 7 locations throughout the County.
Attend a virtual workshop During the month of October Kilkenny County Council will be holding three virtual workshops, one for municipal districts in the county, as follows.
Castlecomer (virtual event) – Friday 7th October, 19:00-21:00
Callan-Thomastown (virtual event) – Monday 10th October, 19:00-21:00

Culture Night in Kilkenny Castle
OPW Kilkenny Castle will celebrate Culture Night with Free Admission to the period rooms from 6-9pm Friday 23rd September. No tickets required, admission will be on a first come, first served basis. They will also host a Medieval and Renaissance Music event, with Dr Siobhan Armstrong, Ireland's foremost exponent of historical music on the early Irish (wire-strung) harp and one of Europe's best-known early harpists, in the Picture Gallery and can be enjoyed as part of a visit to the period rooms. Further details available at https://kilkennycastle.ie/calendar/
Kilkenny Women Artists lecture
Kilkenny Archaeological Society will host a lecture, titled Kilkenny Women Artists, from Mildred Anne Butler and her peers to the present day, by Catherine Marshall, on Wednesday 28th September @8pm in Rothe House, Kilkenny. Admission: members €7, non-members €10. Further details available at https://kilkennyarchaeologicalsociety.ie/event-page/
Military History & Archives Conference
The Military History Society of Ireland and Military Archives will host a two-day conference on the Irish Civil War on Friday 23rd & Saturday 24th September in Cathal Brugha Barracks, Dublin. Tickets to attend in person cost €17 and can be booked through Eventbrite at https://www.eventbrite.ie/e/conference-on-irish-civil-war-tickets-406136434007 It will also be broadcast live via a link which will be provided on the Military Archives website on the day www.militaryarchives.ie
Piltown (virtual event) – Wednesday 12th October, 19:00-21:00
Attend an in-person event Or register to attend their public workshop in Kilkenny City Kilkenny City – Springhill Court Hotel, Waterford Road, Kilkenny, R95 NX32 - Wednesday 5th October, 19:00-21:00
You must pre-register for attendance. To register for the event for your area click the link: https://www.yourkilkennylecp.ie/
For more information click on https://consult.kilkenny.ie/en/consultation/local-economic-and-community-plan-0